To raise money on-line from a Sponsored Event why not use everyclick.com

Just 'click' below to join
FREE of CHARGE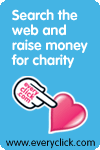 Why not search the web using easysearch.org.uk
and raise money for this Charity
Just 'click'
below
Why not sell on eBay to raise money for this Charity
Just 'click'
below
CONDUCTIVE EDUCATION Centre
NEWS
We have moved to St. Leonards-on-Sea
THE CHILD CARE ACTION TRUST first provided CONDUCTIVE EDUCATION in County Durham from November 2005 until July 2012.
In July 2012, because of the establishment of a new local Charity that was also providing Conductive Education in that area and the declining numbers of children attending our sessions, it was decided to move our Centre to St Leonards-on-Sea.
THE CHILD CARE ACTION TRUST are now providing CONDUCTIVE EDUCATION at St Leonards-on-Sea, East Sussex, for children living mainly in East Sussex, Kent and South East London.
The Charity currently has vacancies for children that have cerebral palsy and other "motor" disorders.
Janet E Wilkes 2nd September 2013
To make an online donation to this Charity
Please click below:-