To raise money on-line from a Sponsored Event why not use everyclick.com

Just 'click' below to join
FREE of CHARGE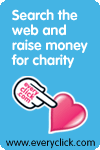 Why not search the web using easysearch.org.uk
and raise money for this Charity
Just 'click'
below
Why not sell on eBay to raise money for this Charity
Just 'click'
below
How THE CHILD CARE ACTION TRUST's
CONDUCTIVE EDUCATION centre in the North East of England first started.
A small Charity called STEP TOGETHER was founded in 2003 by Sarah of Newton Ayclffe, County Durham who's son Joshua, who has cerebral palsy, attended sessions at a Centre for Conductive Education based in Sunderland.
Sarah together with fellow trustees Amanda of Middlesbrough in Cleveland, Vivian of Rowland's Gill in Tyne & Wear and Lyn of Spennymoor in County Durham first raised money so that Step Together could provide a back-up for children who had cerebral palsy and who attended that Centre
Sadly the Sunderland Centre was forced to close in February 2005 and the trustees of Step Together, with limited financial resources, sought ways to open a Centre that would provide Conductive Education for their children. At this period help was sought from various organisations, including The Child Care Action Trust.
STEP TOGETHER first opened it's doors for Conductive Education in September 2005 for just two days each week, employing part-time staff, to provide four "group sessions" per week of CONDUCTIVE EDUCATION at a 'Day Centre' located in County Durham, enabling thirteen to receive Conductive Education, each at one of the four (weekly) sessions.
On 1st November 2005, STEP TOGETHER became a division of THE CHILD CARE ACTION TRUST.
This "combining of forces" enabled THE CHILD CARE ACTION TRUST, whilst retaining Step Together as a "working name", to employ full time staff and to provide up to three weekly group sessions of Conductive Education for each child, plus intensive block placements during school holidays.
More than eighty-five children received Conductive Education at the Charity's centre during the seven years that the centre operated in the North East of England.
In July 2012, folowing the establishment of another Conductive Education Centrte in County Durham, it was decided to move THE CHILD CARE ACTION TRUST Conductive Education Centre to the South East of England.
To make an online donation to this Charity
Please click below:-